SDG 16 in action in Berlin
Key Information
Application Deadline: 06/02/23 at 9:00 am
Opportunity type: Extra-curricular opportunities, Volunteering
Ref: 10007335
Departure Date: 19/06/23
Return Date: 24/06/23
£400: the estimated cost for travel and accommodation (excluding DMU Global bursary). Students will also be required to pay for: UK and in-country transfers, visits, food and drink, visa (if applicable))
Accommodation: Shared rooms in a hostel/hotel booked by DMU
Travel: Flights booked by DMU (students travel as a group)
General Enquiries: Global Mobility Office - dmuglobal@dmu.ac.uk
Trip Lead: Owen Sheridan - owen.sheridan@dmu.ac.uk
Eligibility
All DMU students are eligible to participate on this opportunity but it would be particularly relevant for students with a demonstrable interest in politics, law, human rights and social justice are encouraged to apply. There are a maximum of 20 places available, with a minimum of 10 participants required for this opportunity to take place. Students are recommend to check the eligibility criteria before applying.
About
Trip description
Building on existing relationships between DMU, the UN SDG16 Hub and SDG partners in Berlin, this opportunity directly aligns with the SDG16 hub's objective to engage students in the history, cultural context and politics around the overall UN SDG 2030 agenda, but more specifically with SDGs 16, 17 and 13. Visiting Berlin will allow participants to connect with ideas for sustainable development in a city that has seen many challenges to peace.

During this trip, students will have the opportunity to work with the SDG17 Academy in Berlin and connect with organisations supporting sustainable development at a strategic level. The 17 Academy recognise that without collaboration, the other 16 SDG's can not be achieved, and are therefore committed to breaking down silos, cultivating sustainable mindsets, facilitating groups to become effective and organised movements, and building supportive networks.

As part of this international experience, DMU students will have opportunities to volunteer and engage with different communities in the city requiring support on a variety of challenges. This will involve taking part in a 'networking salon' where information will be shared by NGO's in Berlin and the work they are doing in relation to the SDG's. More information and examples of the work this organisation support can be found on the 17 Academy Podcast.

There will also be visits to learn about key historical landmarks and institutions, including attending events organised for students to learn, discuss and share with peers from local communities. A visit to the Marianfeld Refugee Centre Museum will provide the opportunity to learn first-hand about the challenges that those fleeing conflict face.
Learning objectives
Participating in a DMU Global opportunity can help you develop knowledge, skills and competencies that enhance your studies. The objectives of this trip to Berlin are:
Before the trip to Berlin, students will be expected to participate in briefing sessions with the trip leads to learn about the Sustainable Development Goals in a local and global context. These sessions will also provide an opportunity to engage with the German partners/host before travel.

Cultural activities
Participants will have free time to explore Berlin and learn more its culture and important position in 20th century history. Students may wish to consider visiting the iconic Reichstag building and Brandenburg Gate. There are also a range of museums to be found at Museum Island that can be explored, such as the Pergamon Museum.

Previous student experiences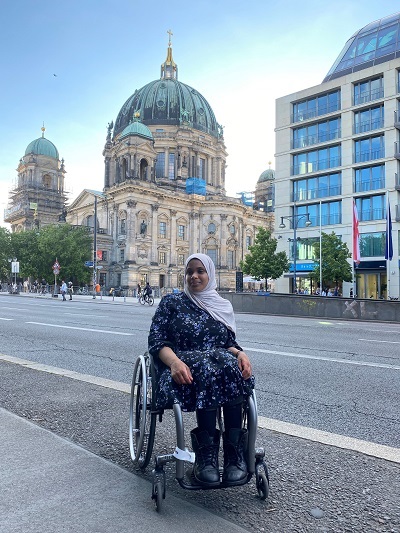 Umaymah Dakri, 21, who is studying Speech and Language Therapy at De Montfort University Leicester (DMU), flew to Berlin this week for a DMU Global trip looking at how Germany's capital is working towards the United Nation's Sustainable Development Goals, and has praised DMU Global for helping organise her first solo trip overseas. Umaymah says…
Travel to Germany is permitted according to the travel rules for England as listed on UK Government website. Further guidance can be found on the FCDO webpage for Germany.

All students that are offered a place on this DMU Global opportunity will receive further COVID-19 advice and guidance by email and in pre-departure briefing sessions. More details and COVID-19 Travel Information can be found here.