Northern Kentucky University (NKU) is a growing metropolitan university of more than 14,000 students served by more than 2,000 faculty and staff on a thriving suburban campus of Highland Heights in Kentucky. It is just seven miles southeast of Cincinnati, Ohio and close to Newport, both vibrant cities where you can explore miles of nature trails and attend music, food and cultural festivals all year long.
The Northern Kentucky Norse are the athletic teams of Northern Kentucky University. They participate in the NCAA I which is the highest level of intercollegiate athletics sanctioned by the National Collegiate Athletic Association (NCAA) in the United States.
Programmes of study
Northern Kentucky University academic programs are organized into seven colleges including the Haile/US Bank College of Business, Chase College of Law and School of the Arts. They offer over 80 undergraduate majors including Business, Law, Humanities, Media, Theatre, Education and lots more. NKU has a 19:1 student to faculty ratio which means there is a close relationship between staff and students. The Mayerson Student Philanthropy Project integrates academics with experiential philanthropic work and there are many other Civic Engagement opportunities available to students.
Exchange students will be required to follow a full programme of study for the academic year based at Northern Kentucky University.
DMU student stories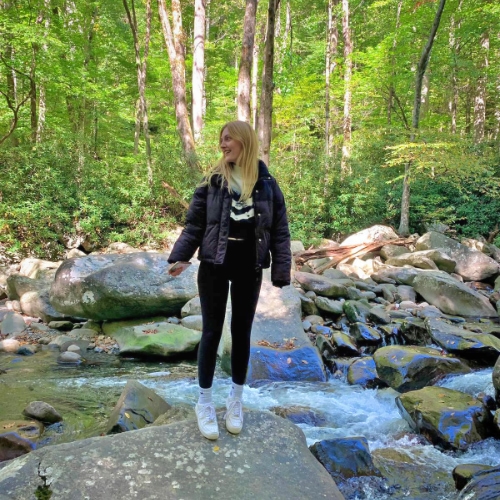 Emily Haisman is a third-year student at DMU currently studying Psychology. She shared her experience of studying at Northern Kentucky University in the USA. I knew travelling and spending a year on exchange was something I wanted to do and when I was applying to DMU I wanted to make sure that was an option….
Learn more about campus activities and events
The International Student Union (ISU) at NKU is the umbrella organization of all international organizations at NKU. All incoming students are automatically considered members of the ISU which is an important dynamic and welcoming presence on the NKU campus and is open to all. W.I.S.H (Welcoming International Students Home) encourages friendships between the NKU student body, the local community and international communities represented by students studying at NKU. This programme is designed to develop friendships by weekly English conversation groups, attending sporting events in the area (national and amateur), horseback riding, shopping, etc. It Is also an opportunity for cultural exchange.
The ISSS also prepare an orientation schedule for incoming students which runs a week before classes begin. This aims to acclimatise students onto campus and make them aware of resources available. It also allows exchange students to get to know each other, learn about US cultural values and practices, meet the ISSS staff and receive other vital information regarding the exchange period.
Student Affairs at NKU provides quality co-curricular programs and services that incoming students can take advantage of. It is home to over 200 student organisations ranging from disciplinary clubs such as the biology club to service organizations, advocacy groups, Greek organizations, sports clubs, faith-based organizations, leadership societies and more. There is also an exciting calendar of events on offer covering a range of areas throughout the year, such as the annual service.
Health and fitness activities are catered for by the Campus Recreation Center which has multiple facilities including 17,000 square feet of weight and fitness space, over 100 pieces of cardio equipment, Bouldering rock climbing wall, racquetball courts, an Aquatic Center, featuring an indoor pool, eight lane 25-yard lap swimming pool, dive well, warm water tub, and active shallow water area, and much more.
Travel & accommodation
Visas & insurance
Costs
Living costs in the US tend to be higher than those in the UK. We recommend that you do further independent research to gain a better understanding of the cost of your year abroad. To help you, we have a created a simple cost comparison between the UK and USA: