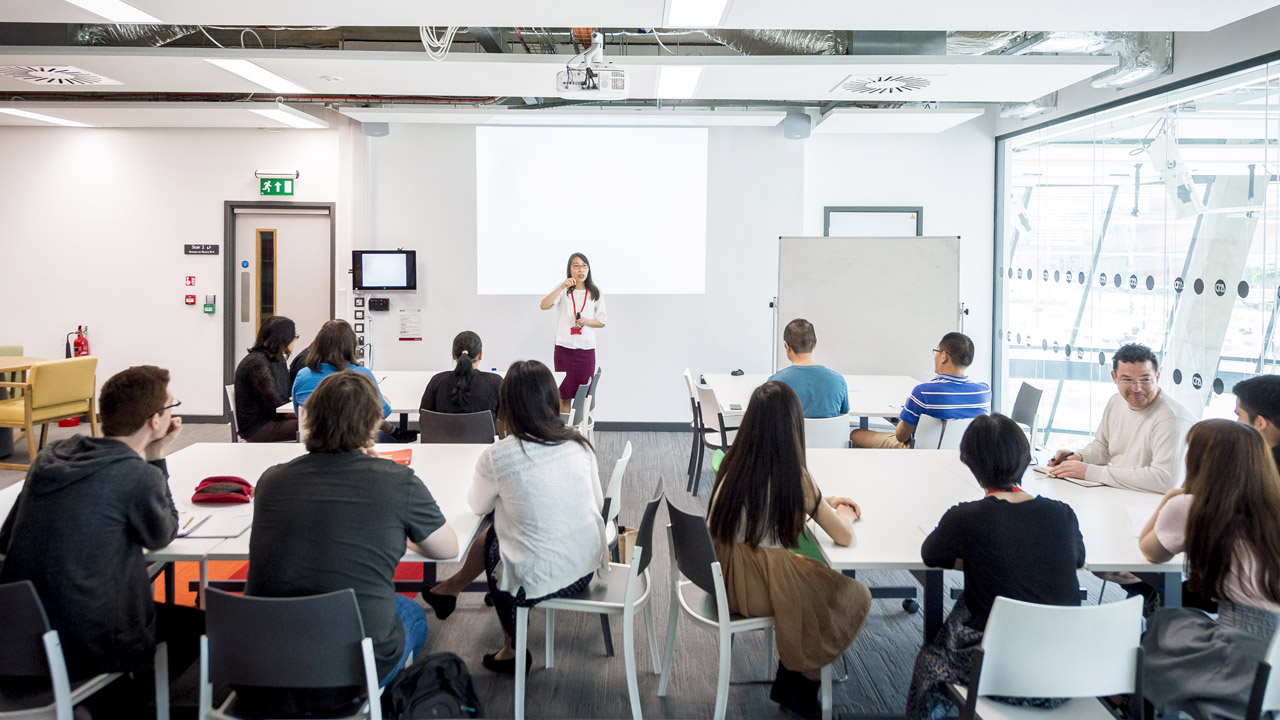 Eligibility
All DMU students are eligible to take part in one language class per academic year. The maximum number of places in each class is 25 (12 places for intensive classes), and the minimum number of students required for classes to go ahead is 8. Please check our eligibility criteria for further details.
About
Do something new this academic year and learn a new language! Through DMU Global, you can choose to learn one of the following languages: Arabic, French, German, Japanese or Spanish.
All classes start at beginner level and no previous experience is required. Classes will be held on campus and focus on developing practical listening, speaking, reading and writing skills through a mix of interactive group work and independent learning.
This year students can participate in a 1 week intensive course or a 10 week Twilight course, see our study options below:
Course Cost
£30
There two study options: 10 week Twilight course or 1 week intensive course
10 week Twilight language course
The term 2 classes will take place on campus once a week and cover 20 hours of teaching. Classes will start the week commencing Monday 24 January 2022 and will end the week commencing Monday 28 March 2022. Please choose from the below class options:
| Language | Day | Time |
| --- | --- | --- |
| Arabic | Tuesday | 6-8pm |
| French | Tuesday | 4-6pm |
| German | Wednesday | 4-6pm |
| Japanese | Thursday | 4-6pm |
| Spanish | Monday | 4-6pm |
| Spanish | Thursday | 5-7pm |
1 week intensive language course
The term 2 intensive classes will take place on campus and online during enhancement week. Classes will start the week commencing Monday 28 February 2022 and will end Friday 4 March 2022. Please choose from the below class options:
Language
Monday
28th February
Tuesday
1st March
Wednesday
2nd March
Thursday
3rd March
Friday
4th March
French
(online)
12-4pm
12-4pm
Independent
learning
Independent
learning
9 – 1pm
Japanese
(online)
9 – 12 noon
9 – 12 noon
9 – 12 noon
9 – 12 noon
9 – 12 noon
Spanish
(on campus)
2 – 5pm
2 – 5pm
2 – 5pm
1 – 4pm
1 – 4pm
You can find more information about the language courses at DMU in the Student Handbooks below:
Application
To study a language, you will need to complete our online application form using the apply now button below for the course that you would like to study. In the application form you will need to:
Twilight language course
Application deadline: CLOSED



Intensive language course
Application deadline: CLOSED