The University of Lucerne is the youngest university in Switzerland. Its roots stretch back as far as 1600, but it has only existed as a modern university since 2000. In the decades since it was founded, the number of students has grown from approximately 250 to around 3500 today.
The University of Lucerne is located in the very centre of Lucerne right next to the railway station and a stone's throw from Lake Lucerne. Its central location, short links and the fact that the entire university can be found under one roof is perfect for both studies and university life.
Programmes of study
DMU's exchange agreement with the University of Lucerne allows students enrolled on the following programmes to study abroad:
Modules will be available in English and and further information about the study options can be found here. Please note that a number of modules on offer are at Masters Level and students should expect to follow a mix of undergraduate and postgraduate modules as part of the exchange.
Exchange students will be required to follow a full programme of study for the academic year based at The University of Lucerne.
DMU student stories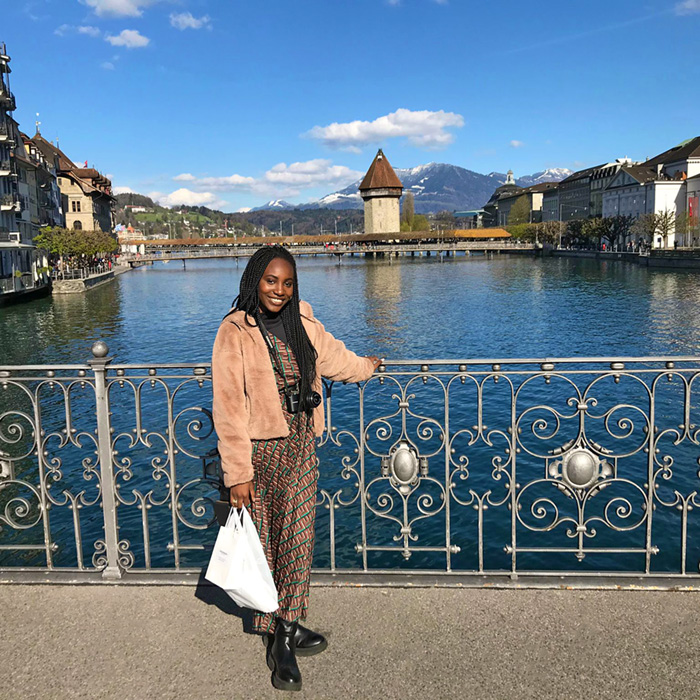 Final year Law student Rumbie Makonise, spent a year studying Law at the University of Lucerne in Switzerland, and shared her story with DMU Global. Switzerland is really advanced, everything is really clean, people are well organised and the public transport is good. I always knew I was going to go on exchange even before…
Learn more about campus activities and events
With its location in the heart of Switzerland, on the shores of Lake Lucerne and close to the Alps, the City of Lucerne offers an array of leisure time activities. In spring and summer, Lake Lucerne and its beautiful surroundings are perfect for hiking, swimming or sailing. In winter you can enjoy some skiing in the nearby mountain regions which are less than an hour away from Lucerne.
The city of Lucerne is located right in the centre of Switzerland, which means that all other Swiss cities and regions are very close by. You can travel to Ticino, the southern part of Switzerland, in 2.5 hours or visit Geneva in less than 3 hours by train. Other European cities are close by as well, so you could spend the weekend in Milan, Paris or Munich, to name a few.
Further information on life in Lucerne can be found in the International Student Guide.
---
Travel & accommodation
Visas & insurance
Costs
Living costs in Switzerland are higher than those in the UK. We recommend that you do further independent research to gain a better understanding of the cost of your year abroad. To help you, we have a created a simple cost comparison between the UK and Switzerland: