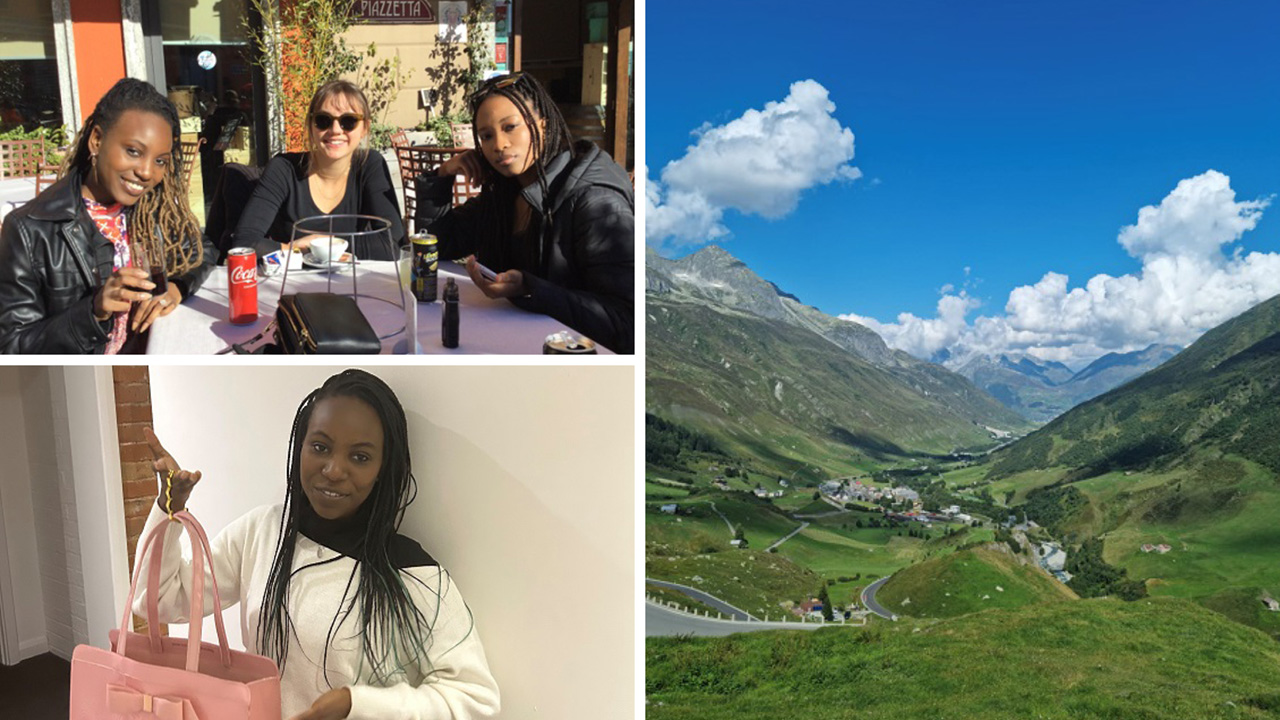 Final year Law student Rumbie Makonise, spent a year studying Law at the University of Lucerne in Switzerland, and shared her story with DMU Global.
Switzerland is really advanced, everything is really clean, people are well organised and the public transport is good.
I always knew I was going to go on exchange even before I joined DMU. I am studying Law and the first two years were spent in lockdown so I had only had an on-campus experience for a couple of months.
I had a choice of four universities to study Law for a year. I didn't want to go to Germany, France or Cyprus so I chose Switzerland. To be honest I was apprehensive. People were saying 'why Switzerland'. Even the Swiss asked what I was doing there! But it turned out to be the best thing I have ever done.
Because I had not been on a university campus due to COVID I think I was like a stereotypical Brit abroad and was going out quite a lot. But then other students – most of them were aged 23 or above – were really mature and had a great work ethic. It rubbed off on me.
There were just two faculties and about 4,000 students and they were so hard working. Everyone I knew went to the library from 8am to 6pm with lectures in between. I watched other people so I could learn what to do and how to work.
Sometimes the work was intense but this work ethic has helped me out no end. I am so much more focussed and really know how to handle a work load. I am definitely a different person.
Since I returned my friends have said 'what happened to Rumbie' and 'you have definitely changed'. I have certainly matured. People do say that going on an exchange does that to you. I am living proof of that!
I am pretty good at advocacy work and there was a specialist Moot Court I applied to study in.
When I started, I was the worst student there. I was coming from a Common Law background and Switzerland was very much about Civil Law. In fact, my professor told me he expected nothing from me.
But then, when he and my peers helped me out, by the time we reached the advocacy lectures I came to life. We entered a competition for the best Moot Court in Europe and I was in a team of three chosen to represent the university in Barcelona. We did not win but it was a great bonding experience and we were so proud about how we had worked as a team.
You never know who you are going to meet on exchange. Myself and another DMU student, Hope Abraham, teamed up with an American friend I had met and started a business called Heruno [it involves a portable coat and bag hook that can hang from anywhere on your travels which is embellished with personal designs].
I made a best friend who was an intellectual property lawyer and he showed me how I can become a businesswoman as well as a lawyer and he influenced me to get into Intellectual property law. I also did some work experience at his firm.
Law students might think these types of exchange trips are not relevant to them. But you just never know what experiences you are going to be given. It is the best thing I have ever done.