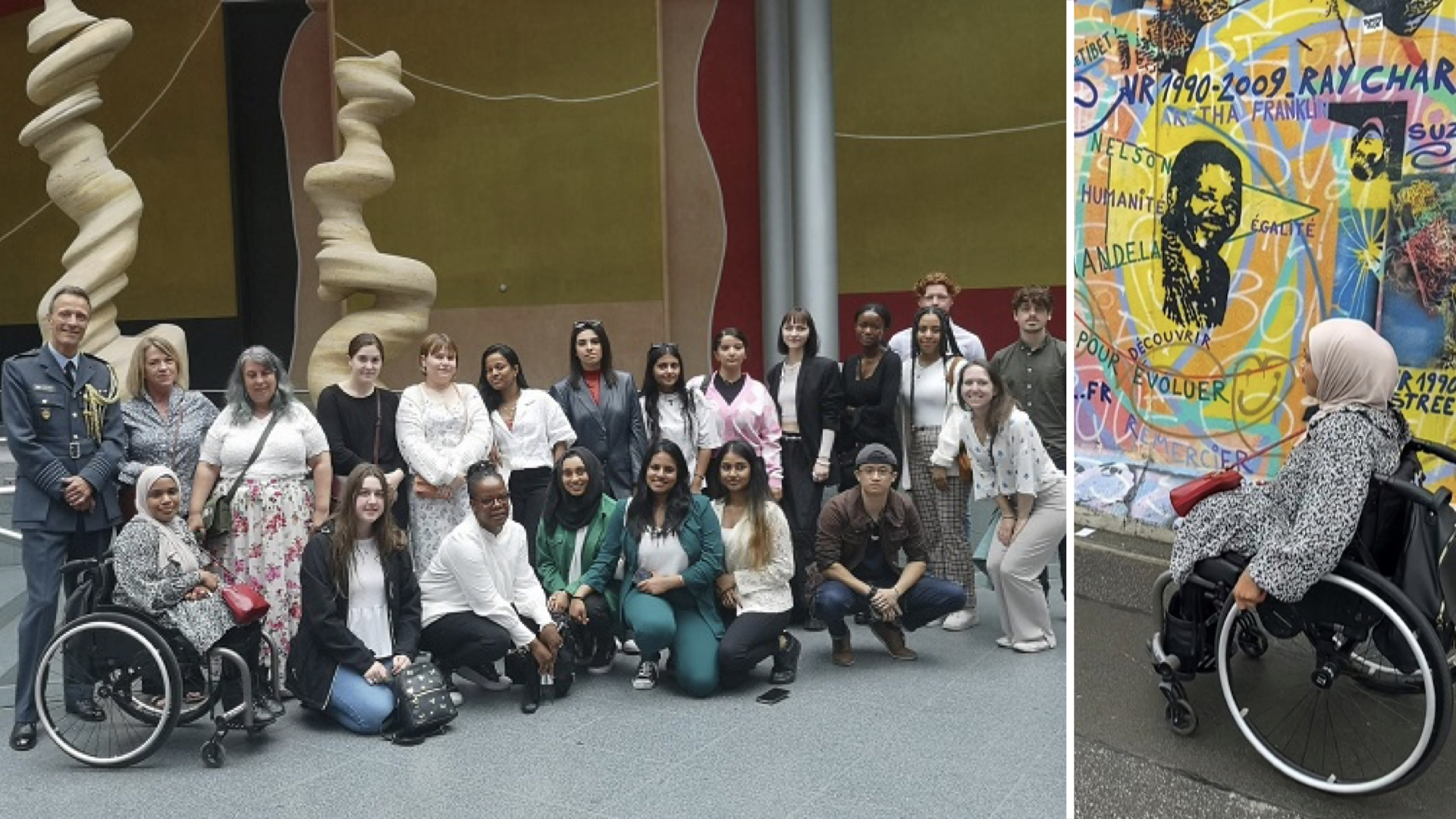 Umaymah Dakri, 21, who is studying Speech and Language Therapy at De Montfort University Leicester (DMU), flew to Berlin this week for a DMU Global trip looking at how Germany's capital is working towards the United Nation's Sustainable Development Goals, and has praised DMU Global for helping organise her first solo trip overseas.
Umaymah says the team at DMU Global, the university's international experience programme, and the DMU Global Disability support officer Dipika Patel, went out of their way to ensure the trip was tailored to her needs as a wheelchair user.
It means that Umaymah, who has Spina Bifida, had arrangements made to ensure bus travel, passenger assistance at the airport and a personal assistant in Berlin were all in place to ensure she experiences everything her fellow students do during the trip.
Umaymah says other students with mobility needs should also apply for DMU Global trips, based on her positive experiences.
"It is fantastic that there is this amount of support for a disabled person and it makes sure I can enjoy a DMU Global trip and do the same things as everyone else does," Umaymah said.
"They have really ensured I can have the best possible student experience. It is the first time I have been overseas without my parents helping me and they are very excited for me.
"I had lots of meetings with the DMU Global team and was asked what support I would need. So we have discussed getting on and off the coach to the airport, passenger assistance at the airport, getting a seat at the front of the plane to get on and off easily, hotel access and a personal assistant to help me while in Berlin.
"It is going to be so good to experience some independence and also get some creative content for my Instagram page and show how easy or difficult it might be to navigate your way around Berlin in a wheelchair or other mobility aid.
"I want to be able to give people who use a wheelchair or who have mobility issues a deeper insight into where to visit, how easy it is to find a toilet, where there may be lots of steps and so on and then give my view on whether the city is a good place to visit."
Umaymah started to campaign on access issues when she had problems with cars parking on pavements around where she lives in Leicester.
In the past year she has run a campaign called #dontcurbtheaccess about cars which pull up on to kerbs.
"I've created videos to highlight problems caused by parked cars and how it affects people in wheelchairs or people with mobility issues. Parking on the kerb means I have to go on to the road in my wheelchair to get by and it's obviously dangerous.
"I live in the city so we have people parking badly for work or when they go to the mosque or some people park where there is a dropped kerb which is the only way I can cross a road in my electric wheelchair."
Umaymah plans to record her trip on her social media channels to show her 2,000 followers what it is like to visit tourist destinations in the city. You can follow or catch up on Umaymah's story on Instagram @disability.living.