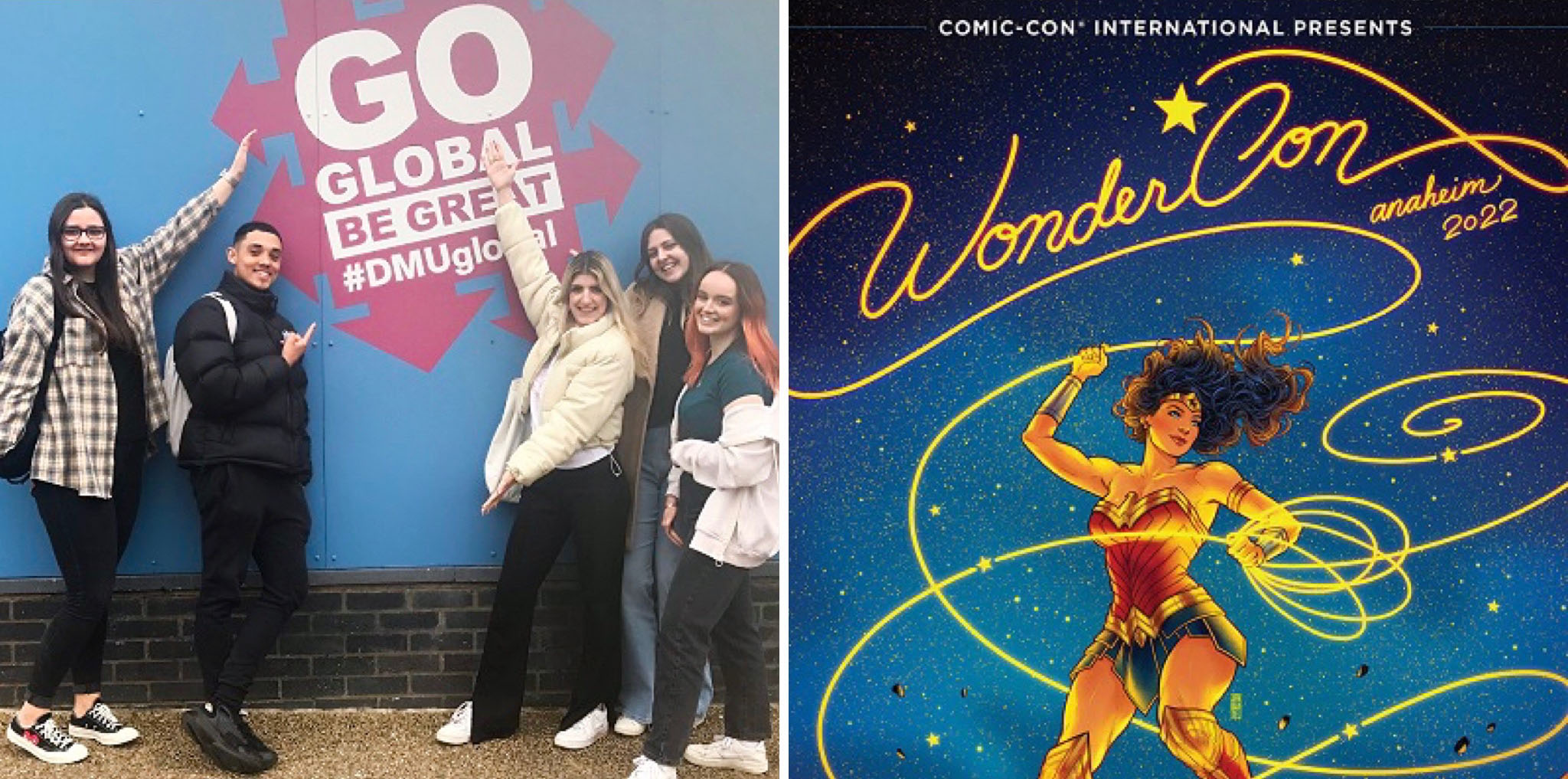 After being grounded by worldwide travel restrictions, the award-winning DMU Global scheme is taking to the skies again with overseas trips resuming after more than two years.
Film Studies students from De Montfort University Leicester (DMU) could barely contain their excitement as they jetted off to Los Angeles today and the world capital of movie making.
It's just one of a number of new overseas experiences being run by DMU Global for DMU students this spring and summer as a pilot to resume trips.
During their 10-day visit to LA, the Film Studies students will head to Wonder Con – a three day internationally-renowned comic convention – to look at fan culture, which they study as part of their degree.
They will gather information from fans they meet to inform their degree work and understand how media culture, such as film and TV, is consumed experienced, lived and celebrated around the world.
On top of that, students can complete their once-in-a-lifetime trip to California by vising fan pilgrimage sites such as the Hollywood sign, Universal Studios, Disneyland, the Hollywood Walk of Fame, the Dolby Theatre where the Oscars took place on Sunday, Paramount Pictures – including a rare opportunity to see the paramount archives – the Hollywood Forever Cemetery and Grauman's Chinese Theatre on Hollywood Boulevard.
Dr Matt Jones, Deputy Programme Leader for Film Studies and Academic Practices Officer, has organised the incredible trip for the students with the DMU Global team and has been involved in designing and delivering overseas opportunities since 2014.
He said: "It is a once-in-a-lifetime, literally money-cannot-buy experience that gives our students the connections, knowledge and adventurousness of spirit they need to succeed in the global film industry. What an absolute and utter relief to have DMU Global back!"
Before heading off to LA, Film Studies student Kimberley Clarke said: "it was DMU Global that convinced me to come to this university. The course is brilliant but a trip to LA too – that was a once-in-a-lifetime opportunity that I could not miss. Then COVID hit and I really thought the chance had gone.
"When it was confirmed we would be going to LA I think I just squealed. I couldn't contain myself."
Fellow Film Studies student Lucas Parker, whose favourite movie is Jaws, said: "This will be the first time I have been to the US and the first time I will have ever gone to a convention.
"It's an incredible opportunity for me to experience the world and broaden my horizons."
Bethany Peake, also Film Studies, said: "We are going to be travelling to the heart of the film world and immerse ourselves in it. I know we share the same language with the US but we are going to be experiencing a completely different environment and culture. It is so exciting.
"I grew up watching Marvel Films and the DC Comics universe so to be able to go to a convention in LA does not seem real."
Maddie Kirby, Film Studies and Creative Writing, added: "I was watching the Oscars on Sunday night and to be going to the very same theatre where that happened is amazing. When I think about touring round LA I can't help but think 'who are we going to bump into?'."
Iona McGinn, also Film Studies, said she is excited about visiting the Friends set in the Warner Bros studio lot. "This is our moment to shine. After three tough years of study, and 18 months spent learning online I think this is our reward. This has bonded us as a group and we are all so excited to be going to share these incredible experiences as a group of friends."
Dr Jones added: "One reason our students choose our Film Studies programme is its global focus. During the pandemic, that has had to be largely theoretical due to the imposition of travel restrictions. We coped just fine, but I know the students felt they were missing out on experiencing international film cultures first-hand.
"So now to be able to take final year students, who have had a rough few years of missed opportunities, to Los Angeles to see the world's most famous film industry in action and to attend a major fan convention of the sort that you just can't find anywhere else is simply incredible.
"Several of our students have never left Europe before, and a couple have never left the UK. To have the privilege of being able to open up their horizons in this way is so special and is one of the reasons I am so proud of the work I do at DMU."