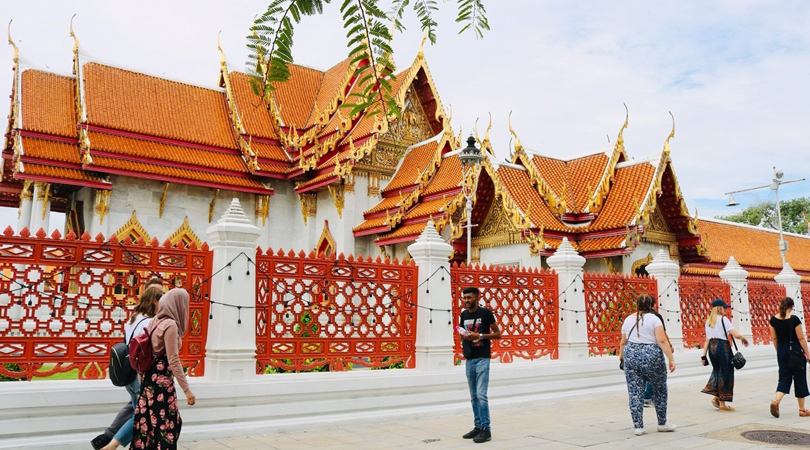 There aren't many posts I write where I don't quite know where to start, but the excitement has sent my head all over the place – in a good way! I have just come to the end of *the* most amazing six-week adventure! I guess I'd better start from the beginning so that you can begin to understand my enthusiasm!
Some time ago, my university in Leicester offered students the chance to take a trip to the Suan Sunandha Rajabhat University in Bangkok to teach English as a foreign language to students there. De Montfort University offers the scheme upon completion of a TEFL course that they also provide.  
I wasn't sure at first, but the more I considered the idea, the more I realised what a fantastic opportunity it would be for me.
Twelve months ago, just the mention of such a trip would have had made me anxious. No way could I travel there and embark on such a mission! However, I've changed over the last year, and something was whirring away in the back of my mind, telling me to give it a go!
I knew that eight of us would be going in total; one I already knew but the others I didn't. So, I took the bull by the horns and signed up!!
We did a lot of preparation and training at university before we set off on our adventure and before I knew it, I'd boarded that flight to Thailand to have, what I now know to be, one of the best experiences of my life.
On my first day at Suan Sunandha Rajabhat University, I was absolutely freaked out. Yes, I'd done the prep work and training back at home, but nothing had really equipped me for a room full of students, all staring at me – their new English teacher!
I've always had a fear of speaking in front of people; a huge group of wide-eyed students, who I knew would be clinging to my every word being one of my worst nightmares. However, despite my reservations, I did it!! And did I feel good afterwards? … Oh, my goodness, yes! That first day was hard but a real accomplishment for me. After that, every day seemed to get a little bit easier as I grew in confidence. I built up a real connection with the students, and we kind of helped each other really!
Teaching aside, I had the time of my life discovering beautiful, bustling Bangkok. The street markets, China Town, the temples and the legendary Khao San Road were like nothing experienced before. The locals were so friendly, and I loved the Thai culture. At the weekends, a friend and I travel further afield, and we explored the delights of Malaysia, Singapore, Dubai and Indonesia.
I had been worried about spending so much time with the six other people I didn't know who were also teaching English as a foreign language at the same university. In fact, we all gelled right from the off! I think I speak for us all when I say we all got on so well together and really enjoyed spending time exploring as a group. I made some really great friends for life through a fantastic experience.
And, during the trip, not only did I grow as a person and achieve some of the best things I've ever achieved in life, I really do feel like I made a difference to the students' lives in Bangkok. Their progress over the six weeks was remarkable. We had all built up a real rapport; they were keen to learn, and I was eager to teach. What a better combination could there be?
Now I'm back in the UK, and I already know I'd love to go and do it all again. I hope to continue teaching English online, and I'd love to travel elsewhere in the world to embark on a similar project in the future. I'm interested in exploring a more advanced TEFL certification – maybe Level 5 – or even a CELTA course which provides a certificate for teaching English to adults.
For now, all I can do is offer my sincere gratitude to everyone who helped make the trip happen for me – the staff at both De Montfort University in the UK and the Suan Sunandha Rajabhat University in Thailand, the group I travelled with and also for the support of my boyfriend and my family.
I will never forget this fantastic time, and I would urge anyone who ever gets a similar opportunity to grasp it! You won't regret it!
Check out some of my photos @sarahhayleyl and video (below) made by a close friend and teaching partner from the trip. The pictures and video only begin to paint the story of an unforgettable trip!